If there is one group who should be leery of people in white coats and government officials who offer free injections, it's African-Americans who have been targeted for experiments and harmful practices for ages. There are many examples of paternalism that was weaponized to hoodwink "black" folks to take part in scientific trials that led many to their early graves, but one campaign sticks out above the rest and is germane to what is taking place at this exact moment.
Of course I'm referring to the Tuskegee Institute Studies that were conducted by legions of doctors and headed by the U.S. Public Health Service. Started in 1932 and finally terminated in 1972—only two years before I was born to give some perspective—the Tuskegee Studies lured unsuspecting "black" males to take part in an experiment that was occurring during the same time Mengele was using Jews as test subjects.
While Mengele's gruesome medical trials ended in 1945, and doctors who participated in his despicable endeavors were tried, convicted and hung in Nuremberg, the US government continued human experiments against African-Americans three decades after the last Nazi was executed.  In all, the Tuskegee Institute Studies led to the deaths—either directly from syphilis or from related complications—of 128 African-American males and countless more were irreparably harmed by bigots who pretended to be caregivers only to reveal themselves as undertakers with lab coats.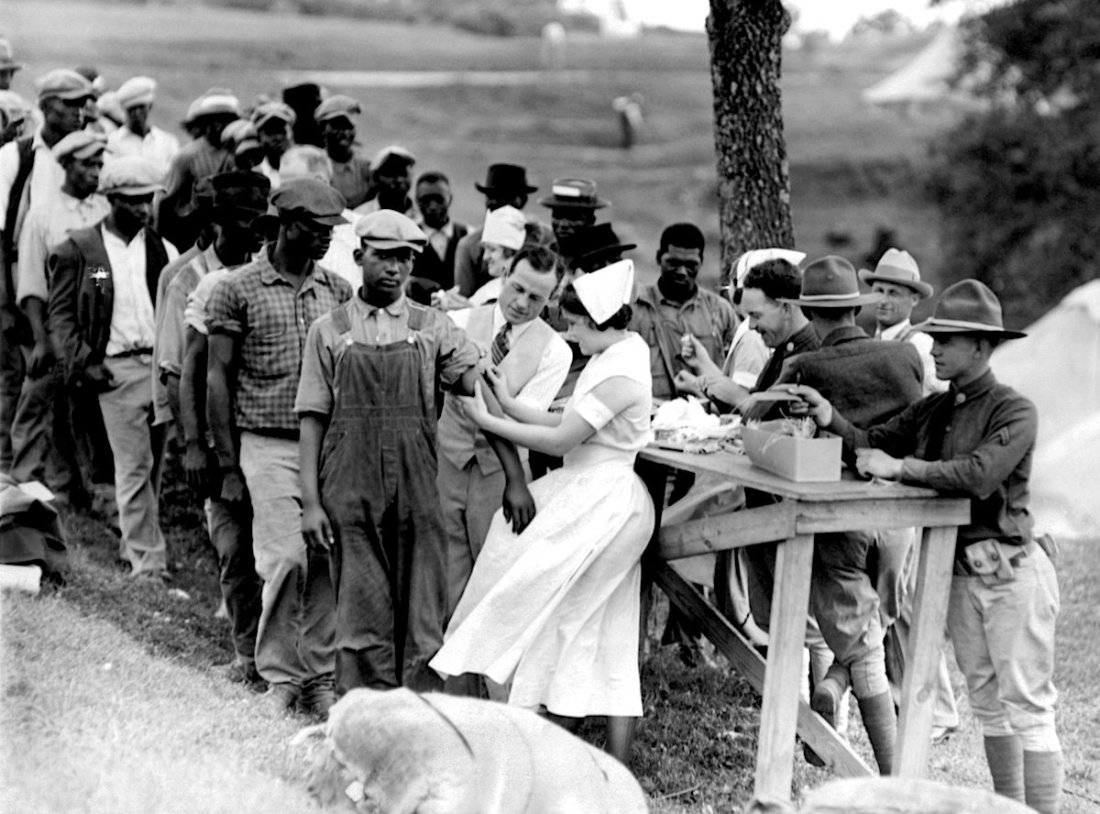 The Tuskegee Institute experiments were not outliers, the US government and medical professionals using African-Americans as test subjects is nothing new. At the same time experiments on African-Americans males were taking place at Tuskegee, the US military unleashed chemical weapons on 60,000 soldiers to test the effects of mustard gas and the chemical agent lewisite. "Black" soldiers, as well as Japanese-American and Puerto Rican enlistees, were locked in gas chambers and exposed to lethal chemicals while "white" soldiers were used as the control group. During the 1950s, the CIA and the US military teamed up to release half a million mosquitos with yellow and dengue fever into "black" Florida communities, leading to multiple deaths and illnesses.
Proving that racism and the evils of consolidated power have no expiration dates, we are now witnessing in real time the revival of the racist legacy of targeting African-Americans for medical experiments that were explicitly banned by the Nuremberg Codes. This time around, the US government and medical professionals are coaxing "black" people to take part in an ongoing experiment and get shot up with "vaccines" that have a checkered history and have yet to be proven as safe and effective. After conducting human trials for three months instead of the 10-15 years it usually takes to garner FDA approval and after undergoing only three trial phases instead of the standard five, the establishment are rushing to administer these nostrums and want "black" folks to cut to the front of the lines.
We know people of color are facing multiple barriers when it comes to access to the #COVID19 vaccine, including distrust of the health care system as a whole. @benecamp shared some ways @OSUWexMed has worked to improve access and address common concerns. https://t.co/DkHEh7eG2x

— Harold L. Paz, MD (@drhpaz) May 1, 2021
Not only is the safety of these "vaccines" they are trying to pressure us to get jabbed us with in question, but their efficacy is also almost non-existent compared to real vaccines like the one used to wipe out polio. The CDC and the "vaccine" manufacturers themselves admit that these boosters do not prevent contraction nor transmission of Covid-19. At best, these snake oils mask people's symptoms for a couple of months and after that they are right back to square one with one additional caveat. By getting jabbed, jab recipients make themselves susceptible to Antibody-Dependent Enhancement, an autoimmune disease that develops 6-8 months post-injection that killed off scores of ferrets and cats that were used in past mRNA studies.
Of course, African-Americans are not being solely targeted for these experimental campaigns; everyone, irrespective of identity, age or health status, is being encouraged to get jabbed with genetic cocktails that are leading to an explosion in the number of vaccine deaths and injuries being reported to the Vaccine Adverse Event Reporting System (VAERS). But there is particular attention being lavished on "black" people as politicians, media personalities and opinion leaders are lining up to hoodwink African-Americans to get injected with nostrums that could make the Tuskegee Institute Experiments look like child's play by comparison.
In August of 2020, Johns Hopkins University's Center of Health Security published a report that addressed the issue of "unequal access to Covid-19 vaccines" and advocated a form of Affirmative Action to ensure broad African-Americans "vaccine" participation rates. In a document only ivy tower chauvinists could produce, the CHS writes:
"In the context of vaccine allocation, treating individuals fairly has sometimes been defined as treating everyone the same or equally, for example, by distributing vaccines on a first-come, first-served basis or by giving everyone an equal chance at getting a vaccine via a lottery. Because the impact of the vaccine is different for different people (i.e., some people are at greater risk of death), the straightforward ways of treating people equally are often rejected as unfair or as an inefficient use of vaccine …

"In the context of vaccine allocation, promoting equity and social justice requires addressing higher rates of COVID-19–related severe illness and mortality among systematically disadvantaged or marginalized groups …

"As a matter of justice, these disparities in COVID-19 risk and adverse outcomes across racial and ethnic groups should be addressed in our overall COVID-19 response."
In other words, the good folks at CHS were so worried about "people of color" that they wanted us to have VIP cards to get mRNA shots in our arms. In that same publication, they note:
"The ultimate safety of an approved vaccine is not completely knowable until it has been administered to millions of people. During clinical trials, tens of thousands of individuals will receive the vaccine but that may fail to show safety concerns that occur with less frequency, such as 1 in a million. This can be a concern for particularly severe adverse effects."
As CHS virtue signal endlessly, feigning to care about structural racism and the impacts it has on African-Americans, they concede that the safety of these experimental "vaccines" are not completely knowable until they have been administered to millions of people. They want "black" folks to be first up so that we can be a significant part of the millions of people who prove out the viability of these "vaccines" even if that means a few hundred thousand die in the process. This is like Josef Mengele pretending to fight anti-Semitism while subjecting Jews to inhumane medical experiments.
None of this is surprising because the people behind this racist agenda planned this entire "vaccine" operation long before the first cases of Coronavirus emerged out of Wuhan, China. In 2019, a global exercise called "Event 201" was conducted that outlined almost everything that we are witnessing at this moment. Conducted by my alma mater Johns Hopkins University and of course funded by none other than the uber eugenicist Bill Gates, it ran a simulation of what would happen if a hypothetical pandemic broke out and the measures that private and public institutions should take to address it.
One of the issues that the organizers paid particular attention to was reaching people who have unequal access to technology and finance and making "vaccines" available to this vulnerable group. In other words, they wanted to ensure that "black" folks, minorities and people in developing nations would have jabs in their arms as quickly as possible. A few months later, news of a deadly virus spreading throughout China broke only for the recommendations highlighted in "Event 201" to be put into action. Within short order, opinion leaders trained their attention on African-Americans, intent on visiting the pains of the Tuskegee Institute Experiments on the progenies of the generation that endured it.
Where did #BlackLivesMatter go? Where are all the black opinion leaders and the where is the false indignation of politicians like @JoeBiden @BarackObama as #TuskegeeExperiments2dot0 is happening before us?
Click To Tweet
Their preferred method is cunningly turning the issue of Covid-19 "vaccination" into a matter of racial justice. After ignoring the plight of African-Americans for centuries, after saying nothing while poverty eradicated the hopes of tens of millions of "black" folks, after turning the other way while the crack epidemic eviscerated "black" communities and after holding their tongues while the prison-industrial complex revived penal labor, all the sudden these duplicitous snakes are leveraging the pains of America's second holocaust survivors to pressure "black" people to take part in these ongoing human experiments.
There to assist racists like Biden and Fauci meet their objectives are sellouts pressuring their brothers and sisters to get "vaccinated". Just like Africans sold their own into slavery, neo-coons from left to right are putting on minstrel shows and shucking and jiving to manipulate their own people to self-harm by way of mRNA-tainted needles. As always, follow the money; all these clowns in mainstream media and the entertainment industries are getting paid to cajole and coerce "black" people to turn their arms into sacrificial limbs for the sake of inflating the profits of biotech corporations.
The same way a serpent offered Adam and Eve charity by giving them free bites of the apple, devils like Bill Gates and his enablers in government and media are professing to be our allies as they gaslight us to get "vaccinated". If they were really concerned about the plight of millions of African-Americans who are indentured into a life of abject hopelessness, they would push for policies that alleviate the number one killer in the world which is poverty. But they don't care about "black" people, they are just using us as stepping stools and leading many to their early graves just like they did in Tuskegee. Bamboozle us once, shame on you but bamboozle us twice and the shame belongs to us.
"Truth is powerful and it prevails." ~ Sojourner Truth
We have decided to fully adopt the "give as you can" model. I stopped asking our readers to contribute to the Ghion Journal in order to give to others who need it. As fate would have it, our website was attacked and taken down last week, we invested heavily in order to upgrade the hosting plan and fortify our security. To that end, if you appreciate what you read here and want to support the Ghion Journal as we continue to speak truth to power and give voice to the voiceless, CLICK HERE to be redirected to the DonorBox page where you can make contributions or contribute below.
11 Members, 89 to Go
You Can also Contribute with CryptoCurrency like Bitcoin
by CLICKING HERE , clicking on the icon below or scanning the QR code below that
The donate button at the top goes to the Ghion Journal general funds to offset costs and to grow our capacities, the contribution button found the bottom of each article goes 100% to the respective authors. Contribute you can, but most importantly, continue to share these discussions. We are planting seeds, it is up to the readers to nurture it.
If you appreciate this article and think that it should be read by a wider audience, of course share it on social media like Facebook and Twitter, but we know that Ghion Journal is actively being suppressed (what is otherwise known as shadow banning) on major platforms like most other independent media sites.
While we ask you to continue sharing this article on social media accounts, please take the next step and share the article link via email, text messages as well as voice conversations. Where they go high-tech with their censorship, we must go low-tech to beat their algorithms.
It is unacceptable that articles like this are being actively censored; we hope you help us overcome their roadblocks by sharing this article on every platform you have access to. Thank you for being a part of the Ghion Journal experience.
Latest posts by Teodrose Fikremariam
(see all)